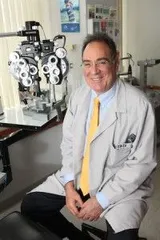 Dear Loyal Patient:
With a combination of joy and sadness, I am announcing my retirement from the full-time practice of ophthalmology as of December 31, 2014. Although I have been contemplating my eventual retirement from the practice of medicine, that date has been accelerated because I have found an excellent physician to take over my practice: Jasmeet Dhaliwal, M.D.
I am excited to introduce you to Dr. Dhaliwal, as he is an excellent physician who will maintain the high standard of excellence and service, that all have come to expect. I have seen Dr. Dhaliwal's surgical skills and they are superior!! Dr. Dhaliwal is also trained, as I am, as a corneal specialist. He is able to do corneal transplants, Lasik, and other refractive procedures as well as treat all cataract, glaucoma, diabetic, and macular degeneration patients. Dr. Dhaliwal will also continue cosmetic procedures. He will work both in the office and at Belmont & Harlem Surgery Center.
Dr. Dhaliwal is a well-trained and experienced ophthalmologist whose goal is to offer his patients the most advanced and comprehensive eye care available. Dr. Dhaliwal completed his undergraduate studies at Northwestern University and attended medical school at the University of Illinois. His medical internship was completed at the University of Chicago Hospitals. Afterwards, he continued at the University of Cincinnati for his residency and subsequently completed his fellowship training in cornea and refractive surgery at Henry Ford Hospital & Health System in Michigan. Dr. Dhaliwal is board certified and an active member of the American Academy of Ophthalmology. In addition, he has published several research studies in prestigious ophthalmology journals.
I am very happy to have Dr. Dhaliwal taking over my practice. In him, I found a doctor who is both excellent in surgery and in treating patients with respect, while explaining their medical condition in a simple, easy way. I have profound pride in my office and my patients. I needed to find someone who would be able to continue my work. I am both fortunate and proud to be introducing Dr. Dhaliwal as your next ophthalmologist. With the benefit of his capable and compassionate way, Dr. Dhaliwal is ready, willing, and able to ensure that you are well cared for.
I thank you for your trust, good wishes, and your patience in transitioning to Dr. Dhaliwal. Although this is sometimes difficult, please remember that your best care and health are the priority to Dr. Dhaliwal and me. I close with my personal regards.
Sincerely,
John Bello, M.D.